SHOP CLOTHES
Night Bats Organic Coverall
All clothes are for all kids.
Bats have boobies, too! Can you spot the breastfeeding pup?
TIP: To wear year-round, get short-sleeve and layer a long-sleeve bodysuit or tee underneath during cold weather.
With this coverall, you have options:
No snaps: Without snaps, this coverall is made with a neckline that allows you to pull this up and over your kid's body like pants. Elastic is fully encased in the neckband. We love no snaps!

Pros: No trying to snap squirmy legs, big kids can easily pull off by themselves to use the bathroom, no wind blowing between crotch snaps.

Cons: Underpants access outdoors on cold days means getting kiddo naked.

With snaps: With snaps, you put on over the head like a shirt instead of stepping into it like pants.

Pros: Easier diaper access for little babies, when changing during cold outdoors you remove only the legs.

Cons: More challenging for big kids to use the toilet unless they are proficient with snaps. Crotch snaps allow more wind to blow into garment.
Order by height. Between sizes? Always go up!
This VT-exclusive artwork is printed on GOTS-certified organic cotton knit. The Global Organic Textile Standards are the leading standards in evaluating organic textiles, setting ecological and social responsibilities from the growth of the cotton through the welfare of the workers in the manufacturing process.

The fabric is printed in the USA using eco-friendly, water-based digital printing with pigment inks. Traditional textile printing is a leading worldwide cause of water pollution; the environmentally conscious company we work with uses a process that uses almost no water at all, using Oeko-Tex 100 pigment inks that set restrictions on harmful chemicals such as lead.

These fabrics are also free from fire-retardant chemicals.
Cut and sewn in Albuquerque, New Mexico. USA.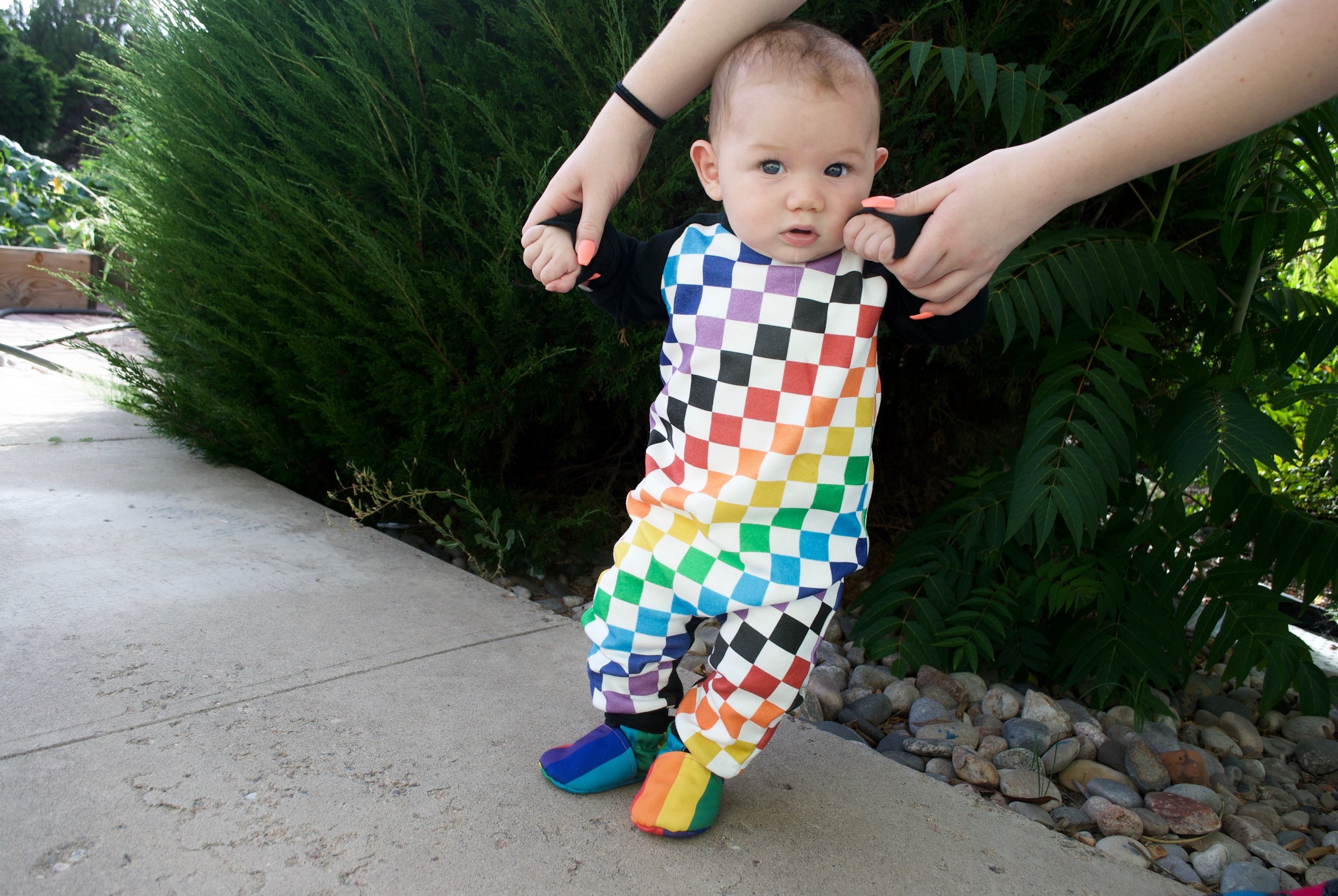 Additional Info
Material:
Body: GOTS-Certified Organic Cotton Knit
Trim: GOTS-Certified Organic Cotton Jersey Knit, 5% Spandex
+++++++++++++++++++++
NOTE: Our coveralls are cut to be worn with disposable diapers and most cloth diapers. If you cloth-diaper with very bulky all-in-ones, please go up one size or leave a note with your order and the length of the body will be extended 2".
++++++++++++++++++++++
Care instructions: To keep in top condition, don't ever let your kid use! To care for as best as you can, wash delicate and hang to dry. To care for like you care for the rest of your clothes, wash and dry on extra low.